Oral Surgery
At Dentistry on Main, we are a highly trained team of experienced professionals with state-of-the-art equipment that offers oral surgery as one of our many services.
Peak oral and dental health requires making sure that your teeth are not just healthy but that the surrounding supporting structures in and around the mouth are functioning correctly. Maxillofacial Surgery, commonly known as oral surgery, focuses on a multitude of defects, injuries and diseases.  It also focuses on defects in the jaw, head, neck, face, and the hard and soft and hard tissues of the mouth.
Oral surgery will often be combined with other treatments like dental implants, periodontal disease and orthodontics. While most people are familiar with every-day procedures like wisdom teeth extraction, you may not be as aware of all the treatments that fall under the banner of oral surgery.
Why Would I Need Oral Surgery
Oral surgery covers a wide variety of dental techniques and treatments.  They are all designed to address different patient needs to restore your smile to its peak health. The dentist may suggest oral surgery if you are experiencing any of these common dental issues:
Periodontal Disease: When bacteria becomes deeply embedded in the gum tissue, sometimes the only way to remove it is with surgical treatments. Laser surgery may also be used in some cases
Root Canal Damage or Infection: Root canal therapy  will remove the infected inner chamber (or pulp) of the tooth to preserve the tooth's structure and functionality. 
Impacted Wisdom Teeth: If your wisdom teeth are at risk of causing overcrowding or misalignment, they can pose a significant risk for infection and a great deal of pain.
Damaged or Infected Teeth: In instances of extensive tooth damage, sometimes the only option is extraction. It can prevent the infection from spreading to the surrounding teeth and causing further damage and pain.
Afraid Of Oral Surgery?  Here's Why You Shouldn't Be
Most people experience fear at the thought of oral surgery. However, the reality is that most oral surgery procedures are gentle and performed using the most modern technology making your treatments comfortable, safe and successful. For most people, one simple dental surgery will have life-changing outcomes.
What should I Expect If I Have Oral Surgery?
Your dentist will provide you with information about exactly what you need to do prior to surgery.  The dentist will also provide aftercare instructions and the medications you may need to take. Upon entering the procedure room, the dentist will explain the next steps and will offer you pain medication if required. 
It is commonly suggested to take a day or two off from work and to avoid strenuous exercise. You may also be required to take antibiotics and pain medicines. It may also be necessary for you to avoid certain foods and drinks.
How Much Does Oral Surgery Cost?
The cost of oral surgery will always depend on the type of treatment or procedures you you are having.  The complexity of your individual case is also a factor. Take some time to discuss your oral surgery and its costs with the dentist.
Oral surgery is a specialized field of dentistry that works to alleviate pain and correct oral defects, such as tooth decay, gum disease, and jaw injuries. Oral surgery is also performed to prepare a patient for dental implants, to repair dental defects due to trauma, or to remove the teeth of a patient with a debilitating disease. Oral surgery is one of the fastest growing specialties in dentistry. Dentistry on Main is pleased to announce that our office is now offering oral surgery services to our patients.
We are proud to be able to offer patients in need of oral surgery a full range of treatment options. Oral surgery is a procedure that may be necessary to remove gum tissue or any other tissue in the mouth that is either unhealthy or potentially harmful to your overall dental health. Some of the most common procedures that fall under the umbrella of oral surgery include tooth extraction, wisdom tooth removal, biopsy, and dental implant placement.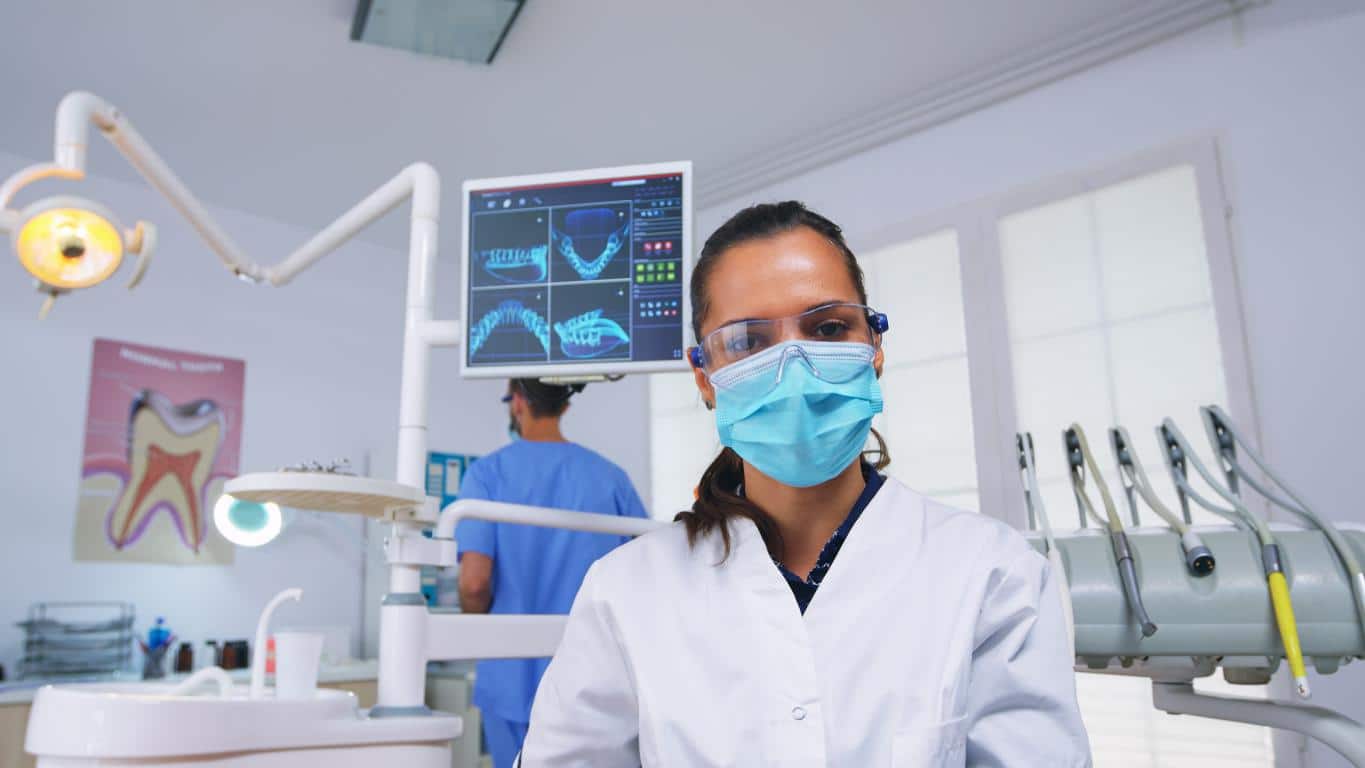 A Brampton Dentist that you can trust
One of the highest rated dentists in Brampton
Hear from our patients why we are one of the most trusted dental clinics in Brampton
I've been using Dentistry on main for well over a year now and have no complaints at all. Nadine is always amazing with the reminders - I would never make it to an appointment without this, lol. And the doctor and technicians are always so thorough. You can tell they are genuinely committed to their work.
Ashley Khan McD
2022-05-14
Hands down the best dentist in Brampton. I've been to a couple prior to Dentistry on Main but I've stuck with this one for 5 years now. My husband goes to a different one that doesn't compare to the quality of service I received. He will be switching. My friend Ashley swears by this clinic also. Dr. Ehab Mentias is a incredible Doctor. Coming from someone who never enjoyed going to the dentist in the past Dr. Mentias makes it easy. Along with his good service you'll be happy to know that his team behind him is also great. His assistants know what they're doing. The Doctor is very important but it does all start with the receptionist when you first walk in. Nardine is a pleasure to be served by in person and on the phone. She has excellent customer service skills. It's a first class dentist. You won't be disappointed 😀
My family have been going to this clinic for many years. So many clinics now do unnecessary treatments to make extra money. I started going here when we owned our own business and had no benefits. They were reasonable and fair with pricing unlike the clinic we were using previous to this one. Now we have benefits but they don't unnecessarily drain them with dry they do what needs to be done. We moved out of Brampton 6 years ago and I continue to drive back as I am happy to continue bringing my family here. This is a great dental clinic and I highly recommend.
Nicole Hoskins
2022-05-13
All staff are professional and friendly. I've had another nearby office that was largely the opposite, so I am happy to have found Dentistry on Main. Highly recommended.
Sarda Ramcharan
2022-04-09
Dr. Ehab Mentias is our family dentist. He is the best. A very compassionate, knowledgeable and experienced doctor. The staff there are also patient, caring and always make us feel very comfortable . Thank you Dentistry on Main
Jonathan Basten
2022-04-02
Firstly I would like to say the staff at Dentistry on Main is extremely friend and make one feel comfortable the minute you enter the door. Dr. Ehab is awesome, he explains everything step by step to you so you know what's going on and what to expect.
Teeroovengadum oumilah
2022-03-15
I was provided with more detailed info regarding a treatment compare to another Dental office. It reassured me to take a decision.thank you
Dr Ehab is always respectful and caring about his clients. He has an impeccable connection with his patients and readily available to provide you the support and education needed for a patient to make the best informed decision to their care. Very nice hygienist as well my personal best is Claudia.
Contact Dentistry On Main
A Family Brampton Dentist Near You
As a dentist in Brampton, we do everything in our power to do our best for our community.  If you are looking for a Brampton dentist just type Brampton dentist near me into Google and you will find us.