Dental Crowns and Bridges
We ensure that your dental crowns and bridges will look and function exactly like the rest of your teeth.
Crowns And Bridges at Dentistry On Main
At Dentistry On Main is a dental clinic in Brampton that provides dental crowns and bridges for its patiens with pride. These dental procedures are proven to be extremely effective at restoring a tooth teeth that have become damaged, infected or have fallen out. Dr. Mentias will complete these dental procedures in a way that looks perfectly natural while resolving any oral health issues. This way, the patient will regain the proper functionality of their tooth without having the appearance of having any dental work at all. If you are looking for a dentist in Brampton for your dental crowns and bridges call 905-454-5777 to schedule an appointment to learn more about the procedure.
What Are Dental Crowns And Bridges
Crowns are used to cover the entire visible surface of teeth above the gum line. They are commonly made of metal, ceramic, porcelain or even zirconia. Crowns are placed over a prepared tooth with intact roots. They are often used after a root canal procedure and can sometimes restore damage caused by tooth decay or trauma. Dentists will first take an impression of the tooth and have it sent to a  professional lab where they will create your custom crown.
The best thing about a  crown  is that it will look and function exactly like your natural teeth. The crown will be color matched to the precise natural shade of your teeth for a perfectly natural look. Proper dental hygiene combined with regular dental visits will allow your crown to last for years.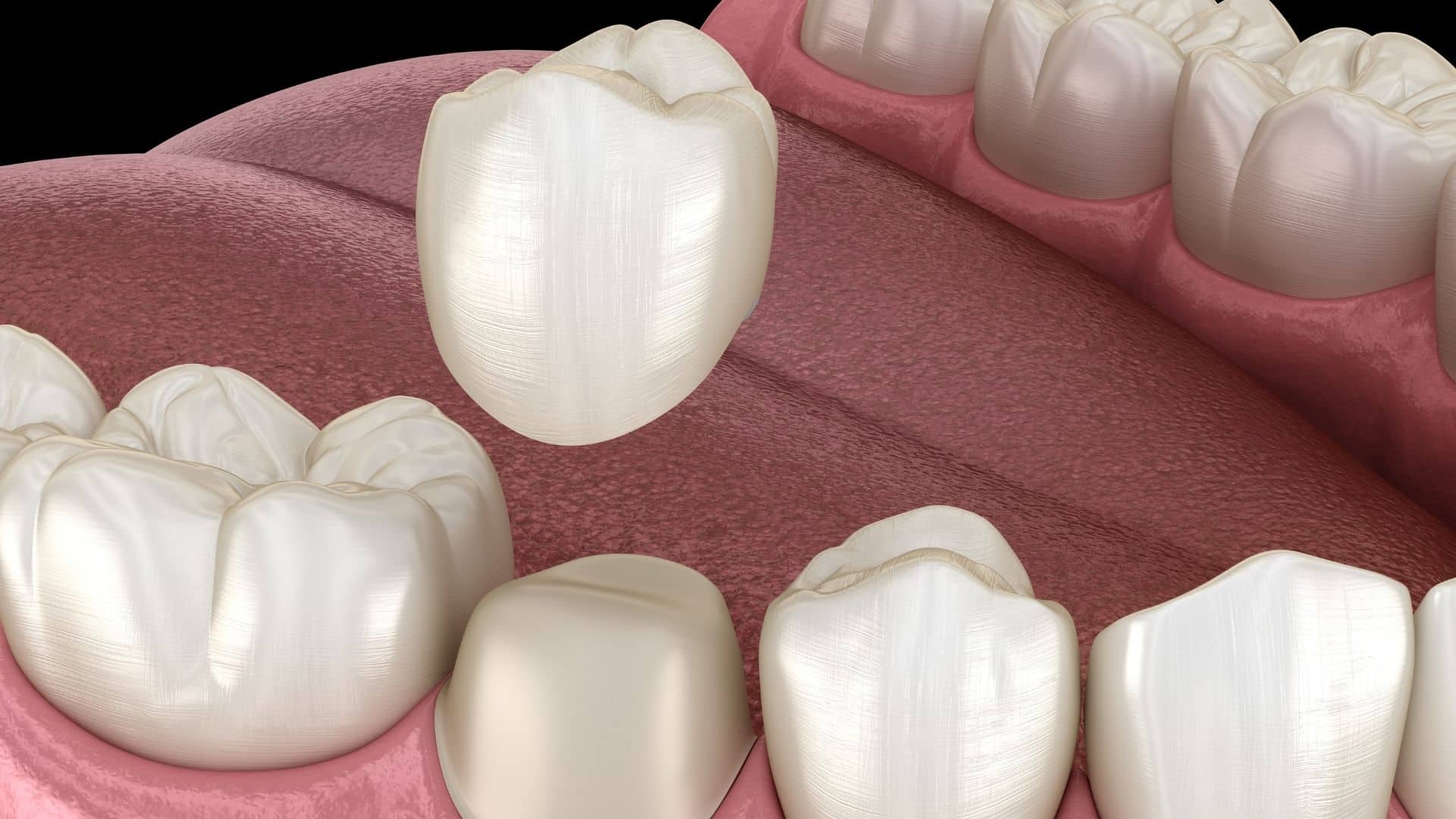 As long as you have two healthy teeth on either side of a damaged or missing tooth, a dental bridge is a great option.   It can span the empty gap with a single prosthetic that will actually look like your natural teeth. A bridge will not replace the root of your tooth but will keep the other teeth firmly in placepreventing them from shifting into the empty space of the lost tooth. A dental bridge will also help to maintain a strong and even bite allowing you to enjoy your favourite foods. 
Your dental bridge will be custom made in the lab from the precise impressions we take of your bite. This will ensure that your prosthetic will be a perfect fit and blend in with the unique natural shade and color of your natural teeth. Dental Bridges are very strong and durable, but they may require periodic adjustments or re-cementing.  Maining a good oral health routine at home in concert with regular visits to your dentist helps to keep the area around and under the dental bridge healthy and clean.
A Brampton Dentist that you can trust
One of the highest rated dentists in Brampton
Hear from our patients why we are one of the most trusted dental clinics in Brampton
I've been using Dentistry on main for well over a year now and have no complaints at all. Nadine is always amazing with the reminders - I would never make it to an appointment without this, lol. And the doctor and technicians are always so thorough. You can tell they are genuinely committed to their work.
Ashley Khan McD
2022-05-14
Hands down the best dentist in Brampton. I've been to a couple prior to Dentistry on Main but I've stuck with this one for 5 years now. My husband goes to a different one that doesn't compare to the quality of service I received. He will be switching. My friend Ashley swears by this clinic also. Dr. Ehab Mentias is a incredible Doctor. Coming from someone who never enjoyed going to the dentist in the past Dr. Mentias makes it easy. Along with his good service you'll be happy to know that his team behind him is also great. His assistants know what they're doing. The Doctor is very important but it does all start with the receptionist when you first walk in. Nardine is a pleasure to be served by in person and on the phone. She has excellent customer service skills. It's a first class dentist. You won't be disappointed 😀
My family have been going to this clinic for many years. So many clinics now do unnecessary treatments to make extra money. I started going here when we owned our own business and had no benefits. They were reasonable and fair with pricing unlike the clinic we were using previous to this one. Now we have benefits but they don't unnecessarily drain them with dry they do what needs to be done. We moved out of Brampton 6 years ago and I continue to drive back as I am happy to continue bringing my family here. This is a great dental clinic and I highly recommend.
Nicole Hoskins
2022-05-13
All staff are professional and friendly. I've had another nearby office that was largely the opposite, so I am happy to have found Dentistry on Main. Highly recommended.
Sarda Ramcharan
2022-04-09
Dr. Ehab Mentias is our family dentist. He is the best. A very compassionate, knowledgeable and experienced doctor. The staff there are also patient, caring and always make us feel very comfortable . Thank you Dentistry on Main
Jonathan Basten
2022-04-02
Firstly I would like to say the staff at Dentistry on Main is extremely friend and make one feel comfortable the minute you enter the door. Dr. Ehab is awesome, he explains everything step by step to you so you know what's going on and what to expect.
Teeroovengadum oumilah
2022-03-15
I was provided with more detailed info regarding a treatment compare to another Dental office. It reassured me to take a decision.thank you
Dr Ehab is always respectful and caring about his clients. He has an impeccable connection with his patients and readily available to provide you the support and education needed for a patient to make the best informed decision to their care. Very nice hygienist as well my personal best is Claudia.
Contact Dentistry On Main
A Family Brampton Dentist Near You
As a dentist in Brampton, we do everything in our power to do our best for our community.  If you are looking for a Brampton dentist just type Brampton dentist near me into Google and you will find us.