Most Common Dental Questions

FAQs
Here are some of the most commonly asked questions and their answers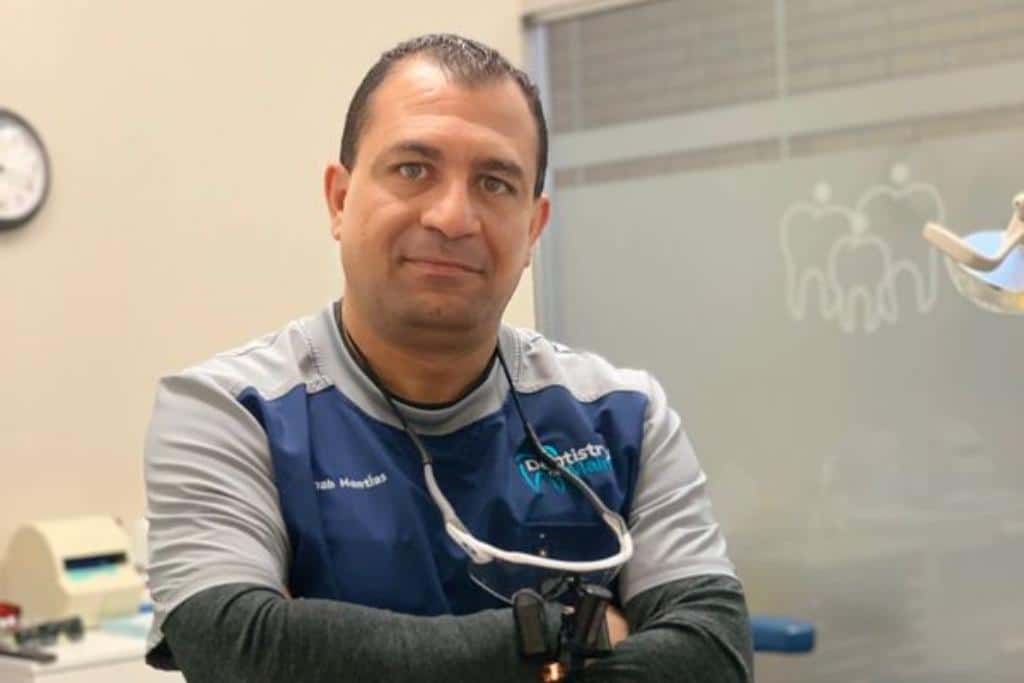 Dr. Ehab Mentias
Dr. Ehab Mentias has been practicing dentist in Brampton with great compassion and high dedication. He has been the recipient of several awards that recognized his remarkable dental skills, academic achievements and dedication to the community. 
How often do I need to take dental X-rays?
X-rays are an important diagnostic tool that allows your dentist to see things that he won't be able to see by looking at your mouth.
There are two types of x-rays. Regular check-up x-rays as well as specific x-rays to detect problems whenever there is a concern.
Every patient is different, generally, most people need to get regular dental checkup x-rays called bitewings once a year (this is not a rule). Bitewings are cavity detectors in areas that might not be visible inside your mouth.
How often do I need to get my dental cleaning?
It really depends on a lot of factors, our dental team will be able to tailor a treatment plan that is right for you. The vast majority of dental patients will need to have their teeth cleaned once every 4 to 6 months.   
Do I have to floss every night?
Yes. You are missing more than 1/3 of your teeth surfaces. Plaque accumulating on these surfaces could cause cavities and or gum disease.
What toothpaste should I use?
While your dentist may recommend a specific toothpaste for certain conditions (eg. dry mouth or sensitive teeth) a general rule of thumb look for a toothpaste approved by CDA(Canadian dental association). 
Adults should look for a toothpaste that has around 1000 to 15000 ppm Fluoride. 
Remember that your brushing technique is even more important than the toothpaste you are using. 
I have broken my tooth! What should I do?
Many factors can cause your tooth to break. Trauma, falling down, biting on something hard, grinding, clenching, and tooth decay. Remember that teeth are not like bone and they will not heal by themselves.   You will need to see your dentist in order to have the problem fixed and try to prevent the same problem from happening to the other teeth inside your mouth.
My gums are swollen, what should I do?
You might feel your gums are swollen for multiple reasons, most are completely reversible but sometimes it's an indication of a much more serious disease. Keep your mouth healthy and clean by brushing and flossing. It is important to visit your dentist to diagnose the cause of your swollen gums.
I have a dental emergency how fast can you see me?
Seeing patients with dental emergencies is a priority for us. If you have a dental emergency such as; pain, swelling, bleeding, and trauma, call our office, and our receptionist will work with you to access the problem, most dental emergencies are seen on the same day. 
What is the age that my child will have all their adult teeth?
Generally, the average age for kids to get their first permanent tooth is 6 to 6.5 years of age. Most kids will get all their adult teeth by the age of 12. It is important to note that this is an average so if your child is early or late it is not a reason to panic, however, it is a good reason to take your child to the dentist for an exam.
Looking for the best dentist in brampton?
Book An Appointment With One Of The Best Dentists In Brampton
Dentistry on Main is easily recognized as one of the best dental clinics in Brampton.  If you live near to our location, simply type " dentist near me " into google and you will find us and all of our great reviews.
Book an appointment with Dentistry On Main
Monday : Closed
Tuesday :10 am – 6 pm
Wednesday : 10 am – 7 pm
Thursday :10 am – 7 pm
Friday :10 am – 7 pm
Saturday : 9 am – 3 pm
Closed Sundays